It's been 18 months since I reviewed the incredible looking Forza 5, which was a great example of what the Xbox One was capable of. It delivered next-gen graphics and the furious racing speeds you'd expect from the series. Now in its ten year anniversary, this historic series has built an unrivalled standing as the ultimate racer with surreal realism presented within their cars and locations. Plus an attention to detail in the driving mechanics makes this experience almost true-to-life. I can't think of another series in any genre where the quality has stepped up in all areas from its predecessor than Forza, and the sixth instalment is no exception as Turn 10 Studios has doubled the number of cars.
Straight out of the box I was amazed at the magnitude of this game and wowed by the opening video enlightening the meaning of driving. Not just that but to discover the immense career mode which includes a huge 460 cars, 26 locations and a good array of racing events to participate in. There is a lot of content! I may not be the ultimate racing fan or an avid follower of motorsports, but it's still easy to see the attention to detail that's been put into this game. Turn 10's goal was to make it one of the best and most comprehensive racing simulators available and it shows.


There is no narrative or story to speak of in Forza 6, but there are pre-race commentary videos from automotive and racing personalities to bring it to life. It made me feel like I was living a driver's journey; a thrilling experience and the competitive emotions that come with motorsports. The new career mode offers impressive 70 hours of gameplay for those who want to commit and pays homage the greatest automobiles of the past few decades. It allows you to experience racing throughout motorsport history and discover well-known racing tracks across the world.
The 'Stories of Motorsport' divides the career into five volumes. They include 'Super Street, Sport Icons, Grand Touring, Ultimate Motorsport and Professional Racing, which combines the likes of Formula 1 and indie car racing. Each volume includes three race series that can be up to four to six different races in one, plus there is a choice of six car categories. It means that to finish the whole career mode you need to complete 15 race series, which works out to 80 races in total, so quite the voyage! Also, as you complete races, the 'showcase mode' is revealed in which you get to participate in racing events where you'll drive specific cars in an extensive assortment of challenges.
There are up to ten categories with each featuring five to thirteen different events in each. Some of the categories include Track Day Shootouts, Factory Spec Racing, Moments in Motorsports, Autocross events and I must also mention that you can challenge the infamous Stig from Top Gear, in which you race him one-on-one. Both the Career and Showcase modes offer such a huge and diverse range of content that it could easily keep any motoring enthusiast busy for months on end without it becoming a grind. I personally though the races weren't repetitive at all, because each race had different laps, conditions, and everything can be tweaked to suit your driving preference.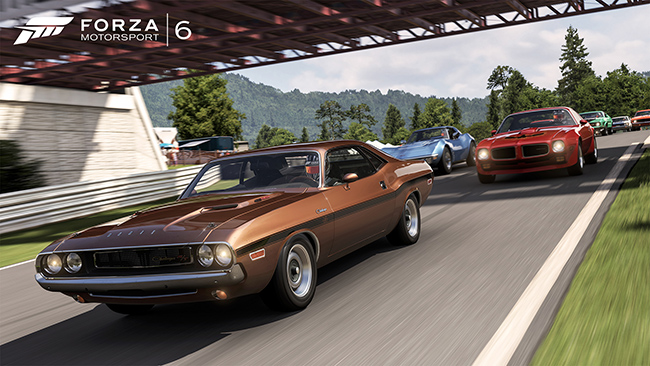 In Forza 5, there were only 14 tracks which I thought was a bit of a shame, but with this installment the tracks have nearly doubled. There are now 26 tracks in total adding Lime Rock Park, Daytona, Indianapolis and Brands Hatch; plus a gorgeous new city course set in Rio de Janeiro. This course was without a doubt my favourite with superb views, refined architecture and the most vibrant colours of any race track I have ever seen. Driving multiple laps around the iconic Indianapolis 500 is also exhilarating and displays a different setting, unlike the more worldly tracks.
Forza 6 does a great job retaining the series' engaging gameplay and accurate control system. Whether you choose to use a controller or a steering wheel, every vehicle you use has a unique weightiness, type of power and physicality. As I'm not the greatest of drivers and often lose races; it was good to know that I can adjust the levels and configuration of the Drivatar settings. Whether you are a novice driver, or you want to challenge yourself with the racing elite, you can adjust all the options to deliver the type of challenge you want out of Forza 6. The AI is spot-on, and you will notice the change of Drivatar's expertise and skills on the road. It changes the driving experience and makes for fun races; at higher levels all of the racers are intelligent and strategic but still manage to make little errors like braking too late. It creates a human-like randomness with each opponent and makes you feel like you are with real racers on the road.
If you want to test yourself against real ghost players around the world; then the Rivals mode is for you. What you'll find is a compilation of leaderboards that includes every race option that the game has to offer. You can select any car to any location, and track formation is available; as well being able to download a rival ghost that suits you. As well as a jam-packed compilation of leaderboards for every class of car and track, there is also rotating racing challenges available that mirror some of the challenges from the Showcase events. This Rival mode is a fantastic feature, and I found it satisfying lapping against real ghost players instead of racing the computer.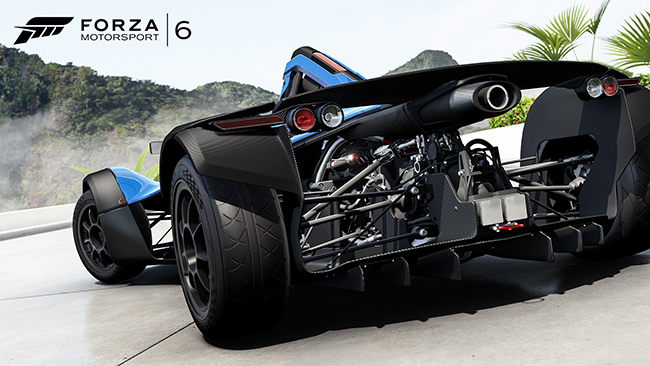 There is now a feature called 'mods,' in which you buy packs of cards that create different conditions while you race. Some of the cards are permanent, and some are for one race use only, but most of the cards can effectively add more credits and level points to your profile. For example, one mod I used was the cockpit view mode and using it the whole race offered me more credits. There are also crew card modifications where you can boost the power of your car or lessen its weight. Also with Boost cards; for example, you can receive an additional 4000 credits for every perfect corner you make. I found buying these packs addictive and made a difference in my race style and helped my credit account significantly.
When talking about any Forza game, it's hard not to get swept up by the visual finesse: Forza 6 simply looked incredible running at 60 FPS and presented at 1080p. The game runs so smoothly and the attention to detail is impeccable making it the best-looking racer to date. Everything looks expertly crafted from the realistic architecture in each location to the crowd at trackside, even flocks of birds taking off as you drive the past and creates a natural setting within each race.
The general presentation of the interface and menus are also worth mentioning; I found it very user-friendly and each screen looked filmic with moving announcements in the background. The introductions to locations, race categories and career chapters are all delivered by automotive journalists Richard Hammond and James May. It's also noticeable that there's the absence of Jeremy Clarkson which is understandable considering his recent dilemmas that are a real shame; he has a real bold and empowering voice that's iconic with motorsport.


Let's talk more about the cars themselves though, because the models are both stunning and packed full of fine details; both in motion and in the showroom. The sheer range of cars is a grand smorgasbord of over 67 different brands to choose from. Appearing most notably is the cover car, the Ford GT 2017, but it was the classic cars which interested me as I was surprised to find my mums old car! The apple of my mum's eye, the 1970 Datsun 510. I even picked the correct shade of green and took the old thing for a thrill ride. Everyone that picks up this game will either find a car that they've always dreamed of driving or some vehicle that has a history with themselves.
The visual quality isn't just reserved for the exterior models, however, with the interior of each vehicle being just as meticulously detailed. The dashboard and dials all look very genuine; so much that with all of the lights and moving parts, the cockpit view became a favourite for me. Illumination and shading also take effect depending on the day conditions which heightened the realistic approach that Turn 10 were aiming for. To be honest, I was so blown away by the mass attention to detail that could almost forget it was a game. Lately when driving my own car, I have to remind myself that I'm not racing people next to me in a 60 zone.
Let's not overlook the crème de la crème of Forza 6, though; for the first time in the series there is night-time racing and rain. The wet weather is amazing to play with when in the cockpit view; watching the raindrops beading off the windscreen with the windscreen wipers on full speed. Even in the chase camera view; the rain hits the whole screen and streams off as you drive along. The wet effects are a great addition and enhance the hazardous driving experience as it impacts the way you drive on the track. Big puddles occupy most of the track from sharp bends, straight lanes and even grassed areas. It looks amazing on the road and changes the dynamic of the race both in presentation and in new and exciting gameplay nuances. Even night driving is difficult because not only is it harder to see as some of the track is poorly lit. The temperature of the night can affect your tires differently to that of the daytime tracks, thus requiring more breaking and care around corners.




The biggest strength in Forza Motorsport 6 is that it's so comprehensive while covering every area of the sport to accommodate all racing fans. Between a gigantic career mode and showcase, there is a lot to experience, and the incredibly varied roster of cars will keep any brand loyalists happy. The collection of tracks is excellent too, from short tracks such as Brands Hatch Indy to the marathon tracks such as Le Mans. The addition of night racing and rain conditions also adds an exciting new element, further emulating real-world racing conditions. With immaculate visuals and an astounding amount of content to discover, it's almost certainly going to keep you busy regardless of whether you're in it for the single player campaign or are an avid multiplayer racer. Forza Motorsport 6 is a complete racing package that delivers in all areas, bringing you as close as you can get to the real world of motorsport racing.
DISCLOSURE: this game was supplied by the publisher, and reviewed on Xbox One across 14 hours of gameplay.