Despite not having been released yet, I've already something of a history with BrambleLash. I've run into and spoken with co-creators Liam and Sam at several events, and had a chance to play the game on numerous occasions throughout its development. I've a special place in my bitter, black heart for BrambleLash, as it allows me to fulfill my favorite gaming past-time: Gaining people's trust and then immediately betraying them. The game has come a long way, and it was definitely looking its best with a new build at this year's PGF. I spoke to Liam Hunt to find out more about what's changed with the game and when we can expect to see a release.
Things have come a long way with BrambleLash since the last time I saw it at PAXAus, can you tell us what the biggest changes have been?
---
On the surface, the most obvious change is the addition of the new Autumn and Winter seasonal levels. These new areas mix up the visuals while introducing more difficult challenges. My favourite new addition would have to be our boss character the slime king; he forces players to use their work together with their tethers in quite a different way.
You've shown the game off at a few conventions now, what's it like bringing the game back each time?
---
Bringing BrambleLash to conventions has always been a lot of fun; the game is really geared toward these kinds of chaotic local multiplayer experiences. We use these conventions not just to show the game off, but to test out new features and make sure that changes we made based on previous demonstrations are well received. It's really satisfying now that we're starting to see people be able to pick up and play the game with no instructions provided – this was a long time coming!


How far away are you from completion?
---
We're close! Our plan is to sell pre-release copies (a private early access if you will) in November at PAX Australia this year, and are aiming for a full digital release in early 2017, likely in February. We have very little in the way of planned content left to add to BrambleLash and intend to spend the rest of the time making sure the core gameplay is as intuitive and balanced as possible.
Working together and betraying each other are big parts of the game, which do you see people doing more of?
---
Most often we see people team up and work together with a chosen partner, then proceed to persistently betray any other teammates for a good couple of levels. After playing for a little while however cooperative instincts get the better of most players and the rate of betrayal drops; it's a beautiful thing! One recent addition to the game's Adventure mode is a ranking system, so we expect to see this create a greater level of conflict and competitiveness.
How was PGF for you guys, did you receive a lot of feedback? Do you think any of it will change the game at all?
---
As always, PGF was fantastic. It amazed us when quite a few people had already heard of BrambleLash before they visited our booth, and it's really nice to show all of our progress to our friends and people that have supported us in the local community. We received a lot of positive feedback but didn't get a whole lot of suggestions for changes or new content; hopefully this means that it almost looks and feels complete! Based on our observations of people playing, we picked up on some things that we need to make more obvious and explicit, such as when a powerup is picked up or when a player scores points.


How do you think Perth has changed in terms of supporting indie developers since you started this project? Has it changed at all?
---
It sure feels like it has! I think we started this project and got involved with the local game development community at a really great time. Since we began, organizations such as FTI have grown initiatives such as Level One and Playup Perth, and Let's Make Games has been more active than ever with local events like PGF and an ever growing online community. All of these things and the people behind them have played a huge role in our development process, and I daresay we wouldn't be where we are without them.
What would be your best advice to people who want to get into indie games development?
---
Get involved with both your local and online communities! Come to playtesting events like Playup Perth and talk with developers about the processes and ideas behind their games (or even better, bring your own and show it off!). Participate in the Global Game Jam and work together with a new team to really test and expand your game development skills (even if you're only a beginner!). Indie game development can be a hard, draining endeavour, but everything is so much easier when you surround yourself with like minded people who can offer advice, support and opportunities.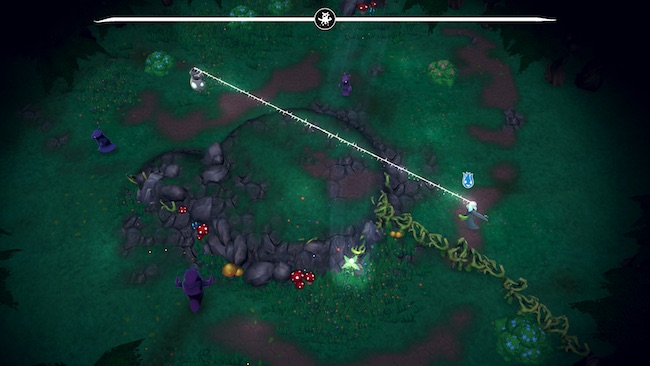 Now that you're nearing completion of BrambleLash, have you got your sights set on future projects?
---
Both Sam and I have a number of game concepts that we're really looking forward to prototyping once we have more time on our hands. Building and testing ideas before committing to fully developing them is a huge part of our process; we're at the stage now where any arguments about design choices results in "make a prototype, then we'll talk". Because of this it's difficult to say what form our next game will take, but it's very likely that between now and then many things will be made, tested and promptly thrown out.
Last time I interviewed you, you said that you were better than Sam – is that still true, or have you lost the crown?
---
Since then he's won his fair share of games, so I'd say we're at about a 50/50 split now. Between you and me though I've gotta make sure that he stays invested, so I may make the odd game losing "mistake" here and there. Gotta maintain team morale and all that…
Am I still the most treacherous player you've come across? It's okay, you can tell me.
---
The most treacherous adult player? Very possibly. The most treacherous player overall? Not a chance. Have you seen how ruthless children are? Kids will backstab their partners at the drop of a hat if there's even a remote chance it'll gain them an advantage. Or occasionally for no reason at all other than to watch the world burn.
Here are some places where you can show your support for BrambleLash:
Twitter: https://twitter.com/bytespritegames
Website: http://bytespritegames.com/
Facebook: https://www.facebook.com/ByteSprite