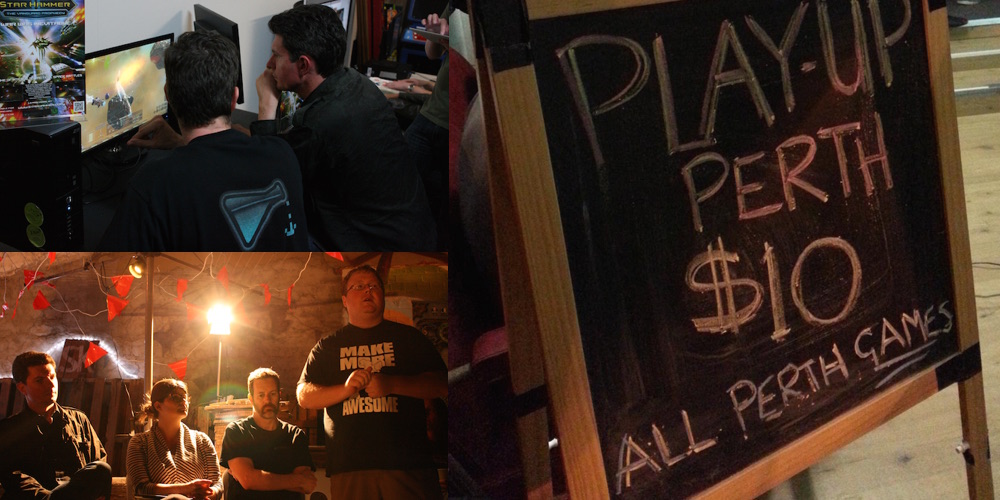 When a Northbridge backyard belonging to a game developer plays host to a Perthonality, you might expect a handful of people. When the guest is Senator Scott Ludlum, however, be prepared for the fullest space possible – game designers, greens supporters and others in the local game industry were more than happy to share the space and beer. Senator Ludlum attended Playup Perth to hear from our industry and get some play time with a huge selection of what is being produced locally, and get a glimpse of where we are going. When given the floor I half expected some rallying speech from our guest, involving promises of funding or at least guitar-accompanied sit-ins on parliament's lawn. Instead, we only heard honesty about the weight of expectation shadowing his visit and Scott's lamentation about the current situation facing the local industry.


There was no negativity in Senator Ludlum's speech, only accurate observations and repeated woes that were familiar to everyone listening. But Scott had several points I want to note; yes, we have taken hits, but are still going strong – imagine the capabilities if our industry was fully recognized. It was encouraging to hear someone of Scott's position to acknowledge the limitless potential of what those gathered could offer the economy of a digitally literate world. Following Kate Raynes-Goldie's introduction, and Senator Ludlum's piece, was an open-floor for each game designer to have a say. The same themes were clear throughout – the lack of funds, opportunities require leaving WA, tinned tomatoes aren't a great meal, and sacrifice being far more present than support. It's not all doom and gloom, however; we did enjoy a night of cheap drinks and some of WA's best games.
As we weren't testing games, only enjoying them and the Tetris'd space we were in, I'll briefly go over some of the present titles. I have to start with Catnips: that one game where there is no possible way to play without looking awkward. Hailing from SK Games we have seen it before, but it was extra hardcore playing it this time, what with one cat/controller losing a nipple in the heated competition. Both players use creepy-cat dolls to control the spraying milk on the screen; the winner knocks all their kittens out with milk, the loser has their babies removed. Always fun, always weird. Next was Blitz from HiVE; a game that made me feel painfully old. It used 360 controllers but everything else, including the sound bytes, were from an original Gameboy – the kind I got new before any of this 'dual screen' nonsense. It was a quick one on one platform game that I lost miserably, yet thoroughly enjoyed.


Representing tabletop games was Block (probably renamed Blockaganda by the end of the night), from Tripleqmark Productions. We tested the an earlier version of this game at a previous PuP: I watched several people play the scarcely decorated cardboard pieces with their plastic counters and could tell Eeshwar of Tripleqmark Productions had hit on a great strategy game. This time around was a more polished version featuring defined rules that had a full table almost all night, making it another great example of our game designer's skill across varied mediums. Paradigm has had several mentions here before, and this time Jacob's presented game was roughly at 75% done bringing a release date even closer. Having Jacob present, his game brought an important perspective to the table: he was one of the few games that had received backing from a successful Kickstarter campaign. The quality and creativity in Paradigm gets better every time I see it and will hopefully encourage other to seek other funding opportunities too.
One Night Only is hard to describe, so instead imagine Seinfeld that takes place in recognisable parts of Fremantle, and is pixelated. That's pretty close to explaining half of the games presented by Rob and Oscar at PuP. Another example of a passion project, One Night Only is a result of working on a game just because it's something you love to do and want to send out into the world to be appreciated. It's funny, well made and probably stepping on trademark laws with all the actual business names and logos from Freo, what's not to love? Star Hammer: The Vanguard Prophecy from Blacklab Games is currently on Steam and will be releasing on iPad soon; this is a brilliant example of Perth's quality release potential. A strategic space combat game with solid mechanics adds another genre to the list of games Perth makes well, and can be proud to present.


Yes, it was a fun Saturday night involving great company, affordable social lubricants, my all-time favourite Senator and some unmissable games, but we were there for a reason. The glow-in-the-dark t-shirts! Oh and, of course, to support all the incredible women and men that face challenges and make sacrifices to produce their digital art. The community is strong here in Perth, but hopefully the near future holds more in the way of growth and less imposter syndrome among game makers. Whether it's through mentorship, publishing and marketing aid or grants, we can collectively hope that those able to make changes can recognize the benefits of backing projects like these. In the meantime keep supporting our industry: if Senator Ludlum can attend Ply up Perth and be game enough to try everything then so can you. And buy a t-shirt while you're at it, no really, they glow-in-the-dark and everything.

Editor Note: There were so many games on show this month, we couldn't cover them all with one writer. Similar to our last report, coverage has been split between us and the Playup Perth blog (managed by our own Nick Ballantyne). If you'd like to read about Bramblelash, Valiant, D3bug, World's Fastest Pizza and COGZ, please click here.