I've been spoiled by Monster Hunter World this year, and by the ways it streamlined the series' design and the way it makes fighting easier. I had forgotten what true hunting is like, and by "true hunting" I mean having to remember a thousand little details just to get dressed properly. Monster Hunter Generations Ultimate follows the tradition of previous "Ultimate" releases by not really changing anything, and just adding a metric tonne of content. As such, given the close release to Monster Hunter World, I'm going to be focusing more on the extra content and how this style of game in the series compares to the "new" style in World. If you'd like a general idea of how Generations Ultimate plays, check out my review of the first "Generations" 3DS release here.


I have given literally hundreds of hours of my life to this series just this year alone, across three different titles. This is fine.
I want to say first of all that I am amazed that we even got this game, considering how long it took for localisation. With the release of Monster Hunter World, I honestly thought it might be the end of "traditional" style Monster Hunter games being released in the West. I'm kind of sad that it didn't also come out on the 3DS since I'm much more comfortable taking that out of the house than I am my Switch, though I realise I'm something of an outlier in that regard. The Switch was probably the best way that it could have released, offering full-screen play and portable mode, the latter of the two is how I've spent most of my time with the game. It just feels comfortable to me having spent so much time with that style of Monster Hunter in the handheld games.
The docked mode offered by Switch is still pretty great, however. It's only been upscaled to a higher resolution, so nothing looks particularly amazing, but it doesn't look terrible either. The UI appears to have been re-jigged to appear much sharper in higher resolution and is easy to see in either docked or portable mode. There is also motion blur added to both modes, and it's devoid of any lag, stuttering, or screen-tearing issues, at least in the time I've spent with the game. With the larger player base of the Switch, it might also mean that it'll attract a larger audience, and hopefully, we'll continue to see future traditional-style Monter Hunter releases come to the West.


Daddy Paddy needs his fix. Also better self-referential nicknames.
The two are vastly different, and Monster Hunter World is effectively a heavily streamlined version of the traditional design, and its gameplay smoother and more fluid than its predecessors. It demands so much less from players, and returning to the traditional style was a slap in the face to that lax attitude that World bred in me. I had my ass handed to me by a Congalala because I'd forgotten just how brutal the gameplay could be. That's not to say that it's bad, however, just different, and rewarding for players that carefully take the time to plan both in and out of combat.
The combat in MHGen Ultimate, and by extension the rest of the "traditional" series, has always been about careful planning and timing of animations. You can't move while using items, you can't easily "cancel out" of actions, and your character's range of movement is a lot more rigid. Your skill levels are calculated entirely differently, and some armour builds can even debuff you. Monsters are also just straight-up frightening; for those of you who've only played World and think the Deviljho is a pushover? Well, one Deviljho showed up by literally crawling out of the ground, and then proceeded to eat both me and the Yian Garuga I was fighting at the time.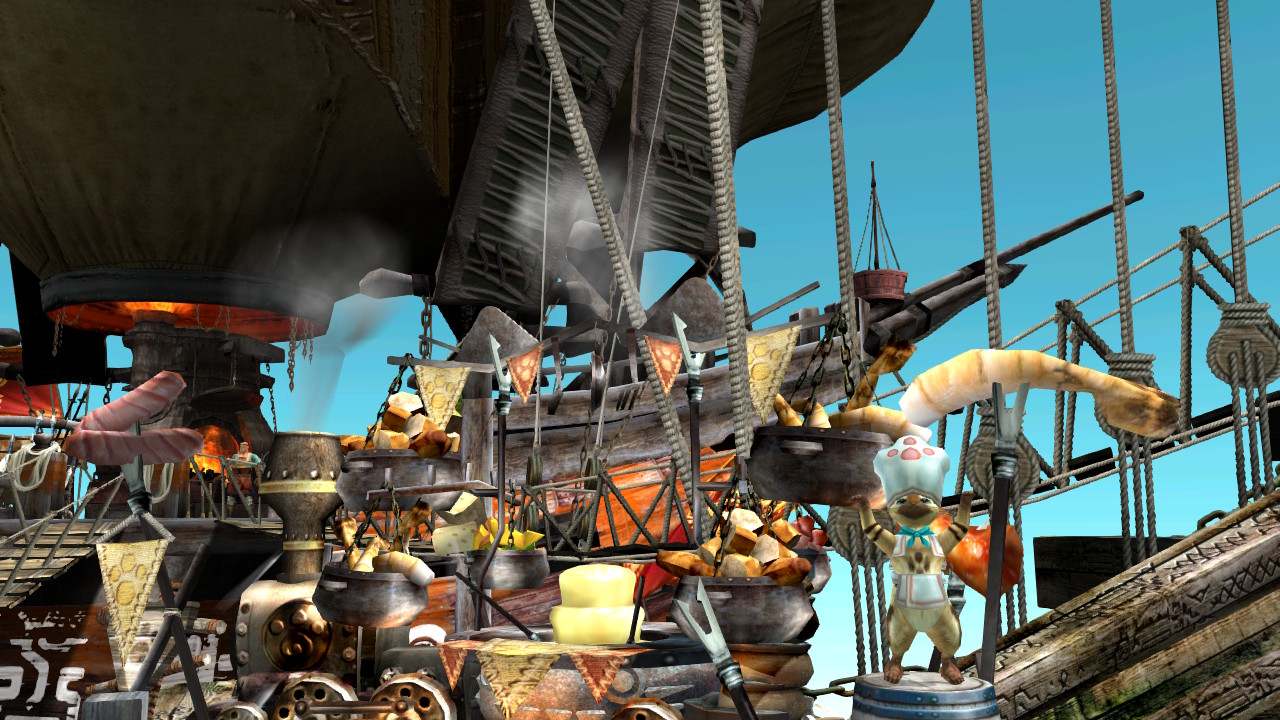 I kind of immediately crapped myself and ran when it showed up, so I didn't get a screenshot. Instead, let's just look at this adorable cat chef and his kitchen.
There is something of a story expansion for MHGen Ultimate, though as is usual with the Monster Hunter series, it's nothing amazing. Starting from a new "town" in the form of a flying research vessel, the new story revolves around the player hunting for Valstrax (which is the renamed Valfalk, for anyone who'd been playing the original Japanese release.) That isn't really a spoiler; the game straight up tells you that at the beginning and Valstrax has been slapped all over the promotional material. The dude is literally in the opening cinematic. He's just the McGuffin for you to chase after as a "storyline," while just going through the usual gameplay loop.
That being said, the expansion also means an expanded roster of monsters and MHGen quite literally takes the record for the highest count in the series, with an absolutely insane 93 monsters. Nintey. Three. I hope none of you are completionists for armour sets. This includes more "deviant" type monsters than what were available in the first version of Generations, as well as a couple of completely new monsters. Deviant monsters are something I would love to see come to World since they're currently unique to Generations and are some of the best hunting in the games. More than just a variant of existing monsters, these horrific creatures are some of the most challenging fights I've ever had in the series, and offer some top-tier equipment. They demand that you have perfectly honed skills with your weapon of choice, and go against the predictable pattern of behaviour that dictates how most their non-mutated counterparts fight.


I call this one "A Bad Time." They all have similar names from me.
There's also some things that I feel Generations inspired in World, and in some cases still does better than its new-styled cousin. For something it inspired, Generations introduced the ability to send gathered items back to town so that you could theoretically gather twice as much as you could in previous series entries. In World, this was taken a step further, and you now have your entire inventory stash brought along on every hunt, so you can deposit or withdraw whatever you want to your hearts content. On the other hand, there's a blacksmith, shop, and "house" in the Gathering Hub of Generations, meaning you don't really need to leave the multiplayer area to prepare your character. Only the house is available in World's Gathering Hub, however, and as a result I never really use it, nor do those I play online with.
Another thing that Generations does better than World is connecting to online multiplayer, which is as simple as trading friend codes and then posting a Gathering Hub session. At the base level, you still do this in World, but the requirements for how it's done on PC and console aren't consistent and neither make sense to begin with. Sessions can be private on the console version while still inviting friends, and on PC your session has to be completely open to let them join, with no way to filter out the Rando Cardrissians that connect. There's also a certain amount of black magic involved if you want it to work correctly the first time. Generations Ultimate has none of this, it simply works and makes playing with friends a lot simpler. Which is good because you basically need other people for the Guild quests.


Of course, that doesn't stop me from doing them on my own a lot of the time because.. You know.. The whole "having friends" thing…
Unlike in World, Generations has a set of single-player missions that are balanced accordingly and a separate set of Guild missions that are designed to be played with more than one player. They are essentially just copies of one another, with a few extra missions thrown in per quest level, but completing one will not count for the other. World handles this instead by only having one version of each mission and adjusting the difficulty depending on how many players are connected at the time. It does mean Generations technically has double the amount of content, especially as there are some monsters and materials you can only get from those quests. However, it does mean repeating a lot of stuff that you may have done in single player and how you feel about that depends entirely on how much you enjoy the core loop of hunting monsters. You might find it frustrating if you're only interested in constant forward progression, but if you're the kind of person that enjoys a good hunt regardless of level, then it won't be a concern.
Weirdly, it's something I'd still like to see a variant of in World, as there's currently not a lot to push the limit in testing one's mettle in a solo fight. Guild quests with friends are a lot of fun in Generations; however, the challenge of trying them on your own was another way to push your skills further. That just isn't available in World, and Tempered monsters aren't really a consideration in the face of something like the Hyper or Deviant monsters in Generations. Hyper monsters especially, who can mirror the "Hunter Arts" available to players in Generations, empowering their attacks and changing how they're executed. They can be more difficult than the Deviant monsters at times, and force players to re-evaluate the knowledge carried over from fighting their normal counterparts.




Monster Hunter Generations was hands-down the best version of the "traditional" style Monster Hunter games when it released, and Generations Ultimate carries that forward with a massive helping of new content. Nothing has really changed from the previous version, but there's a lot the game has to offer over its "new style" counterpart in Monster Hunter World. Generations Ultimate is still better than World in many ways, whether it's multiple ways to increase the challenge in single-player, smarter ways of approaching the multiplayer experience, or just the amount of content it offers. As a "ported" experience, from the 3DS to the Switch, it also retains the same level of quality and presentation, without introducing any new issues. Moreover, World's existence really cements Generations' quirks, such as stupidly long, unskippable item-use animations, to be hallmarks of a particular design style in the Monster Hunter series. If this is an indication of what we could expect for later Monster Hunter releases on Switch, the future of the series looks bright indeed.