"Up, down, left, down, B, X, DINK, DINK– CRAP." This is but one of a few dozen similar phrases uttered by me while playing Western Press, though that shouldn't be taken as a failing of the game. Parodying the well-established trope of Western duels, the gameplay is informed by the choice of genre and the humour of the Western Press helps it to stand out. Two men – or women, skeletons, children, and memes (among other peoples and entities) – enter, and one something leaves in this match of thumb-related reflexes. There's not a whole lot more to the game than that but there doesn't really have to be. It's one of a few games I've played recently that keeps things very simple and is highly enjoyable as a result.


And Big Lebowski references will usually get a giggle out of me.
As far as the story is concerned, the intro says it all: "The duel abides." Two people (or personified things) with a beef come together to blow each others brains out and settle said beef. There is a campaign mode of sorts, but it doesn't actually follow a persistent story, and, if there is some kind of ending cinematic, I've yet to see it. I'm not saying that there isn't one, just that you require the reflexes of an actual robot for the last two stages that I've been unable to beat. That being said, the default wild west settings for this game are fittingly simple. It's not the kind of game that really needs to overcomplicate things with a story.
There's even a fair amount of humour that's been injected into the Western Press, and that's aside from the Lee Marvin sounding narrator that pipes up about your performance. Each character has unvoiced dialogue in the form of insults and shit-talking that they'll hurl at one another before and after duels. It's a small thing but some of the dialogue is also character specific, which makes the whole thing feel a little more polished. It's one thing for characters to throw down while ripping into one another but added details like that make the game feel more alive. Of course, this also means that modders can add in their own dialogue when creating custom characters, which is always… Interesting.


The Internet – just as dangerous and unpredictable as the ol' Wild West.
Duels take place in the form of a list of button combinations, and combatants have to finish theirs faster than their opponent can with time penalties for mistakes. It sounds very simple and, really, it is but it's one of those "easy to learn and hard to master" games. You'd think after playing so many QTE filled games over the years that this would be child's play, the combo's falling away like my bullet-riddled opponents. I must have stupid fingers or something the drive to beat my opponent and the pressure of not making a mistake throws my motor skills out the window.
This can't even be blamed on poor controls or execution, either – the game excels at both, and I didn't encounter a single bug while playing. It seems that quick-drawing just ain't my jam. There is an alternate game mode, which I'm a little better at, that has the combination played out as a memory sequence that slowly increases round by round. Enjoyable simplicity is great, but I feel like more could have been done to flesh the game out a little more through the addition of a couple of extra modes. That's not to say that what's here isn't good, so this is probably more just a matter of personal preference than anything else. The only major downside of the game is that the online player-base just doesn't seem to be there right now. Every time I tried to start a lobby, I'd wait for quite awhile with no players showing up, and I'd eventually quit out to single or local co-op instead.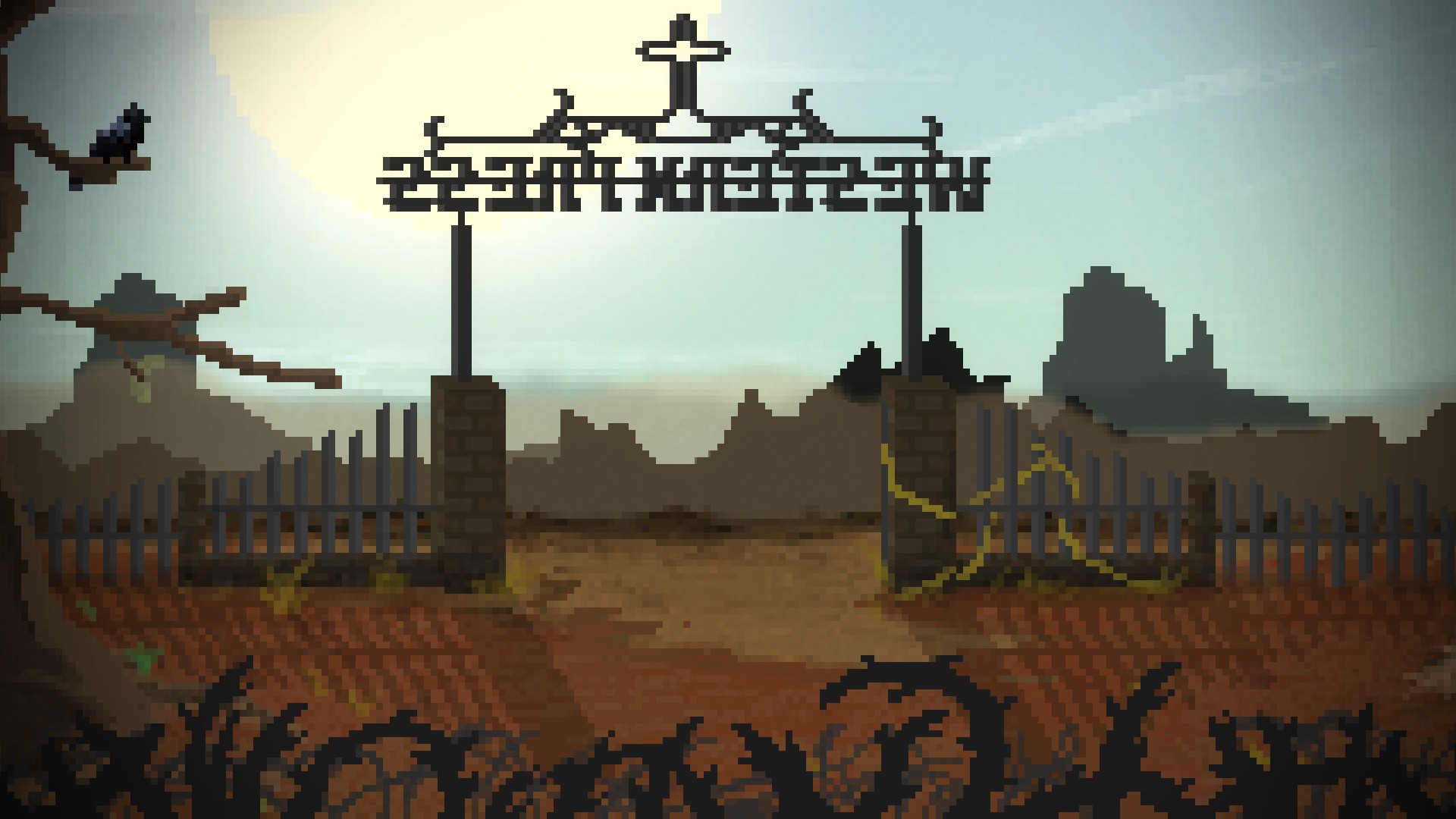 Which is odd given that there's still Workshop content being produced for the game.
Western Press' presentation fits the "simple" theme that contextualises the rest of the game, with some excellent pixel art and HUD design. Characters aren't always hugely detailed, but it's always clear who and what they're meant to represent. There's also some jaunty piany that plays in the background of some of the levels. Probably the most welcome part of the game, however, is the Workshop access, allowing for user-made content to be added into the game. It's my hope that this might extend to different modes, or at least mode-mutations, from some enterprising users, but, for now, there's always this:


REEEEEEEEEEEEEEEEEEEEEEEEEEEEEEEE!
It's hard to find fault with Western Press – it's a simple, well executed party-game that can easily be enjoyed on your own, if only for a while. There's not a whole lot to it, but that's also part of its charm and one of its greatest strengths; sticking to its core design and keeping things focused. The range of characters are already pretty funny on their own, but the added Workshop functionality means that you can keep yourself amused for quite awhile. If there is a fault to be found it's in the online multiplayer, which is exactly like an old, Western ghost-town, or at least it was for me when I tried. I feel like one or two other game modes could have been added in, as well, but they may still happen yet – and there's always the Workshop. Otherwise, if you can get some friends around for a few drinks and some rounds of this, some local couch co-op good times are there to be had.