---
Chosen by: Patrick Waring
Release: January 26, 2018
Developer: Capcom
Platforms: PlayStation 4, Xbox One, PC
Monster Hunter is a series that has taken a while to gain decent traction in the West, at least compared to its home country of Japan. It's one of those "difficult to learn, even harder to master" kind of games that demands a lot of your time to make headway. That's just fine for me, having happily sunk hundreds of hours into Monster Hunter 4 Ultimate and Monster Hunter Generations alone. It has meant, however, that we've missed out on some of the more remarkable entries in the series, including the recent Monster Hunter Double-Cross, released on the 3DS and the Switch. For a brief while, I was worried that we weren't going to see the series here again for some time… Until the trailer for Monster Hunter World dropped at E3 last year, that is. Good God, it looks incredible.
Trailers can be deceiving, however, so I was overjoyed to get my hands on it at PAX Aus last year, and once again during its open beta, and discover it was mostly what I'd hoped it would be. Let's cut straight to some of the reasons as to why I'll be playing this game until my hands can't move under my own strength. Excessively long and frustrating animations whenever you use an item are gone. Each map is one large, continuous area instead of being broken into smaller parts that have to load individually as you enter them. You actually track monsters using their footprints and scents instead of aimlessly wandering around until you bump into them. There's a new tool called a "Slinger" that acts as a grappling hook to get around or can be used to pull bits of the environment down onto monsters.
Some things are going to be missing that would have been great to have in there, like the Hunter Styles/Arts, for instance. However, a greater majority of the changes are addressing basically every major gripe I've ever had with the series. It already looks so damn pretty, and it'll be playable on PC for those that like their games to look absolutely stunning (and I do.) If Monster Hunter World is as fantastic as I hope it is on release, the rest of the year could be nothing but dreck, and I'd still be happy.

---
Chosen by: Harry Kalogirou
Release: January 26, 2018
Developer: Arc System Works
Platforms: PlayStation 4, Xbox One, PC
One of the biggest surprise announcements at E3 2017 for me was Dragon Ball FighterZ. I was aware of Bandai Namco's plan to release a Dragon Ball game each year, but my expectations were far from what we actually got. A fully-fledged fighting game, headed by Arc System Works – the developers responsible for excellent fighting games such as Guilty Gear and BlazBlue. Needless to say, I was excited. I'm a sucker for mechanically deep fighting games, and when I saw that being combined with a property such as Dragon Ball, my hype levels went through the roof.
The gameplay that was shown off was promising, showcasing 3v3 combat with characters from all corners of the Dragon Ball universe. Oozing with style and that DBZ charm, the game looked near-complete at its numerous showcases over the past months. And having played the open beta, I'm confident that this will be one of the best Dragon Ball games to date. There's a high level of polish and detail in animations, and the amount of fan service that can be found in a single match is overwhelming in the best possible way.
After two years of decent Dragon Ball games, FighterZ is looking to up the ante in terms of quality, scale, and depth, giving fans of both fighting games and DBZ something to really look forward to. It's a game that's exuding with the charm of its source material and seeks to draw in casual and hardcore gamers alike. With such an early release date, it's looking to get 2018 off on the right foot, and if pre-release is anything to go off of, Dragon Ball FighterZ will soar above and beyond previous Dragon Ball releases.

---
Chosen by: Lliam Ahearn
Release: February 22, 2018
Developer: Konami Digital Entertainment
Platforms: PS4, Xbox One, PC
Okay, I'm not stoked with Konami recently, either. The Phantom Pain, to my surprise, became one of my very favourite games back in 2015, so, naturally, it hurts that it might have been even better. Kojima is also a creator I wholeheartedly admire and respect, so, of course, any mistreatment of him or his brilliant team is saddening to hear of. But Metal Gear is and always was Konami's.
What's really interesting now, though, is Metal Gear Survive is being developed by the same studio that released the original Metal Gear in '87. Yes, Kojima has moved on and taken plenty of important associates with him, but I'm not going to assume everyone who jumped boat had their hands all over MGS, and everyone who stayed was useless trash. I'm impressed by anyone who worked on The Phantom Pain, and I'm excited to see where they take it next.
Survive has a hell of an advantage from the ground up. I've never been too into stealth games – I don't have the patience, I think – but Metal Gear was a series I loved for the world and narrative, despite it working against my play-tendencies. Even still, I reached 100% completion in MGSV because 100% of it was so much fun. Metal Gear Survive is building off of mechanics and systems that inform and elevate each other, gameplay that is consistently engaging and rewarding, and a style and setting that are deceptively complicated. Yeah, stuff could go wrong, but as far as how the game plays, things are stacked in Konami's favour. Scavenging, crafting and survival are clever places to point this thing; all being components of MGSV with room to expand significantly. They're taking something excellent and stacking some fun ideas on top, and they'd have to stack a whole lot to crush such a robust foundation.

---
Chosen by: Nick Ballantyne
Release: March 23, 2018
Developer: Hazelight Studios
Platforms: PS4, Xbox One, PC
We all know why I picked this game. The mastermind behind A Way Out is a lunatic, a visionary, and a vestige of hope in the gaming sphere. He's like a Greek pizza guy that convinces you with raw enthusiasm that sweet chilli in garlic bread is the only way to go. When the Keighley tried to hold him back at The Game Awards last year, he said nay with such intensity that it bore a meme. I don't care if A Way Out is any good or not, I just want to see what the hell happens with Josef Fares once it's released. That said, I am fascinated to see how the game works in the first place.
The game seems to be a strange mix of cinematic storytelling and split-screen co-op unlike anything previously attempted. You can't play alone, which is a bold move to make for a game with a heavy narrative focus. Imagine playing God of War with a younger brother constantly telling you to use the Nemean Cestus or run back because you missed something you didn't. Now picture that sibling playing the game with you at the same time, like a symbiont you can't shake. How well will that sit with people? Who knows!
The game also marks a notable shift in tone from Brothers. Where Fares' previous game was set in a fantastical wonderland, A Way Out is all about a prison break. There looks like plenty of interesting gameplay opportunities, but will it be as interesting as saving the world from demons? I'm keen as hell to see how people take to the game, and if Josef's passion is anything to go by, it'll be the best game ever made. Ever. Oscars ain't got shit.

---
Chosen by: Ellis Longhurst
Developer: Ubisoft
Release: March 25, 2018
Platforms: PS4, Xbox One, PC
Typically, I'm all-in with Nintendo when it comes to hype, and 2018 is looking to be yet another excellent year for the Switch. However, oddly enough, my most anticipated game is the latest in a well-established franchise that I have largely ignored since its inception: Far Cry 5.
I was drawn in by an official Ubisoft trailer at E3 last year, and the game seems to have occupied a place in my subconscious ever since. Far Cry 5 takes place in Hope County, USA, where a radical preacher named Joseph Seed is terrorizing the local population. You play as members of the resistance movement – local residents who are hoping to overthrow him and dismantle his doomsday cult 'Eden's Gate.'
The game is open-world, appears to have strong characterisation, and a Waco-esque story that (in this current climate) I wouldn't be surprised to see splashed all over the news headlines. I like the idea that I can play as an ordinary citizen against a realistic threat in your average rural (rather than exotic) location. That assessment makes it sound rather mundane, but there is an attractive horror to the relatability.

---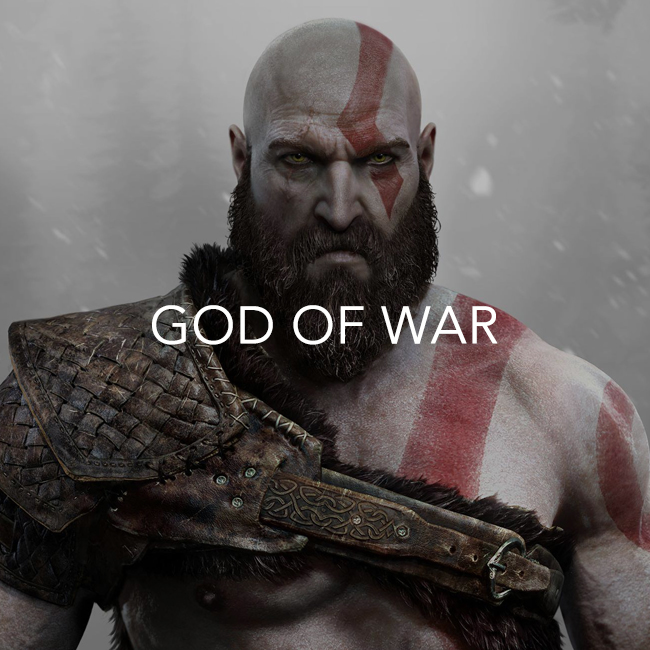 Chosen by: Blade Shaw
Release: Q1 2018
Developer: Santa Monica Studio
Platforms: PS4
If there has ever been a more critical juncture for the God of War series, it's right now. As the first new entry into the current console generation for this long-running series, expectations are high for this latest instalment to deliver off the back of the sadly underwhelming God of War: Ascension.
From what the teaser trailers have shown, I'm very excited. The gameplay has been completely reworked and looks to fit more into the current mould of play style for contemporary action/adventure and RPG games. Coupled with an entirely new setting and majestic beard, the fantasy nerd in me is very enthusiastic about seeing Kratos lock horns with Gods from Norse mythology.
Perhaps what's most exciting, though, is that I'm genuinely pumped up to play this game. Rather than feeling a sense of obligation to keep playing out of long-standing loyalty, my interest in God of War has been piqued once more. For the glory and gold awaiting in Valhalla – I hope we're onto a winner!

---
Chosen by: Ben West
Release: May 15, 2017
Developer: Atlus
Platforms: Nintendo 3DS
Since discovering Persona several years ago, I've been delving into the series that gave rise to it, Shin Megami Tensei (SMT.) Where Persona games are energetic tales of friendship and the power of youthful energy over great evils, SMT games come from a darker place: telling the story of corrupt worlds in which the party suffer greatly in their attempts to take even small steps toward their goal. This comes through in the brutal difficulty of the gameplay, as players need flawless strategy, solid mental fortitude, and at least a little luck to make it through the struggle which awaits.
While it's still unclear when we should expect to receive the blessing that is SMTV, Atlus has been kind enough to grace us with an enhanced port of a fan favourite in the form of SMT: Strange Journey Redux for the 3DS. Strange Journey Redux will take players on a trip into a dimensional anomaly which threatens to engulf the Earth if not stopped, combining classic SMT combat elements with navigation in the style of the automated mapping mode of Etrian Odyssey. As a fan of Etrian Odyssey, this sounds like a perfect match.
Naturally, long-term SMT fans already know what's up with this one, and if you've gotten into it more recently but haven't yet had a chance to play the original Strange Journey, like me, this port is already solidly on your radar. That said, if you've enjoyed any of the Persona games and are looking for a darker story with a greater challenge, you should be paying attention here. I couldn't be more excited to get another renowned Shin Megami Tensei title under my belt and to come out the other side of my journey so much stranger for it.

---
Chosen by: Brendan Meharry
Release: TBC 2018
Developer: Rockstar Studios
Platforms: PS4, Xbox One
Remember how in the Most Anticipated Games of 2017 article I chose Red Dead Redemption 2? Well, here we are a full year later, and I'm choosing it again – ever so patiently waiting to again don the bolo tie. I'm a little older, maybe even a little wiser, but that doesn't matter because the world still does not have RDR2.
I can only assume that it was delayed so that we receive a more polished product (the current hopeful date is the US Spring of this year), but at least we now know more about the game. While last year we had nothing more than a trailer showing trees, trains and other assorted (and well rendered) rolling landscapes, the second trailer that's since been released has revealed a bit more.
Set before the events of the original RDR, the game follows a new character to the series named Arthur Morgan. An enforcer for the Dutch van der Linde gang, other recognisable faces appear in the trailer too like Bill Williamson, and, of course, Dutch himself. While not much is otherwise known apart from the inclusion of multiplayer, the trailers are exceptionally well produced, and the steam-powered hype train is smoothly rolling. I can't remember the last time I day one purchased anything, but this will be mighty tempting.

---
Chosen by: Alex Chalmers
Release: TBC 2018
Developer: Project Soul
Platforms: PS4, Xbox One, PC
Transcending history, and the world, a tale of souls and swords, eternally retold…
I have to sigh, you know, because it's been more than five years since Soul Calibur V was released. It didn't help that the competitive scene of 2D fighting behemoths like Street Fighter IV had dominated the interest of major competitive events like EVO, and thus 3D fighting franchises like Tekken, Virtua Fighter and Soul Calibur waned into obscurity.
Now, however, the lifeblood of 3D fighting game communities has been rallied by the reinvigorated gameplay of Tekken 7, while Street Fighter has stumbled under the weight of constant balance instability and dubious nickel-and-diming practices by Capcom. While a high skill ceiling and bottomless strategic depth haven't been calling cards for the Soul Calibur series in the past, VI's inclusion of revenge mechanics akin to Killer Instinct's combo-breakers looks to be an indicator of the series' forward evolution being considered more seriously. Sure, it's a type of mechanic that's been explored thoroughly in plenty of other fighting games before this, but the addition of armor mechanics and power-crushes added two massive layers of additional complexity to Tekken's decades-old formula and made it feel like an entirely new game to old heads and newcomers alike. That same approach looks like it's being taken here with Soul Calibur VI, and I can't wait to see how the traditional ballet-like distance-guessing dances of this series' formula are being shaken up. That and guest characters, of course.
While only two series' mainstays have been revealed so far, (Mitsurugi and Sophitia), this being a reboot of sorts means we should expect interesting newbloods. We might not get to play as Yoda and Darth Vader again, but hey, Genji from Overwatch or Geralt from The Witcher would make awesome additions…fingers crossed!

---
Chosen by: Rohan Ford
Release: TBC 2018
Developer: Odd Tales
Platforms: PC, Xbox One
Numerous references to Bladerunner, '90s rotoscoped-style animation, and a post-cyberpunk world were what initially drew me to 'The Last Night' from Odd Tales, and not escalated side discussion of director Tim Soret's much earlier Twitter remarks on the gamergate movement and its arguably regressive stance towards feminism.
For a game that originally started as a short flash project built over six days, the title has gained surprising headwind, not least since being touted in illustrious fashion on Microsoft's stage at E3 2017. A video featuring a breakdown of the team's unique art direction has done little to dim expectations, but perhaps goes some way to explain why the game has become the focus of both praise and dissent. It is ambitious in content, visually compelling, and furthers the argument that a small team of indie developers can present serious competition to the AAA end of town.
Dystopic narratives about technology and the possibility of individual obsolescence tend to carry a fair amount of socio-cultural criticism; however, it remains to be seen whether Tim Soret's vision is more visceral action/adventure than complex social commentary. After playing through the original demo, I for one am willing to suspend further judgement until the game's intended 2018 release.

---
Chosen by: Bernadette Russell
Release: February 28, 2017
Developer: Bioware
Platforms: PS4, Xbox One, PC
Given my current internet situation, I probably should be investing my hope and excitement into games which aren't built around being online. However, satellite internet speeds aside, I am still incredibly pumped for Bioware's upcoming title, Anthem.
From what we've seen so far, Anthem is shaping up to be a huge undertaking of a game with a lot riding on its success – a push back to next year is also always in the back of my mind. However, it does look to be immersive, action packed, and customisable to the point where choosing your armour etc. is enjoyable but doesn't become the whole game. I love the ability to go exploring and have been waiting for a new game that I can play with others to do just that. Also, I just really want to play with the Javelins and fly around fighting insane monsters.
I have been let down by E3 presentations before, though; both with release dates that keep getting further away or disappearing entirely and by games that simply don't deliver. It's all too easy to get hyped with such a small amount of information revealed and by what could be, but here I am again drooling over a game I hardly know about. Bioware is responsible for some of my all-time favourite single-player gaming experiences, and I'm going to remain hopeful that they deliver – and that they deliver on time.

---
Chosen by: William Kirk
Release: TBC 2018
Developer: Sega
Platforms: PS4, Xbox One, Nintendo Switch
Valkyria Chronicles is one of the greatest games of all time. In my opinion, yes… But I still like to state it like it's a fact – which it should be. There are a lot of reasons why I love to put this strategy/role-playing hybrid on a pedestal, though; the most prominent being how unique a concept it is. In fact, even to this day, there isn't really much else like it.
When the game first hit store shelves, it was a somewhat troubled time for the Japanese game industry. Old staples were quickly growing tired in the wake of the HD era and more technically advanced games from the west, while terms like "linear" and "turn-based" were starting to gain a negative stigma. And yet, in spite of this, a diamond in the rough emerged out of nowhere, and from Sega of all folk. A game which is both linear and turn-based, but also utterly unique and captivating. With its beautiful watercolour art style and compelling narrative to its intricate hybrid gameplay systems, it was, and a still is, an incredible game. I could ramble about it more, but with a remastered version available on PS4 and PC, you really should just try it for yourself.
Now imagine my disappointment when a sequel was announced…but for the PSP. Then imagine an even greater disappointment when the third instalment didn't even make it to the west. Finally, imagine the ultimate disappointment when last year a spiritual successor was released, after years of the franchise being dormant, which then proceeded to abandon almost everything good about the original game. Hopefully now you can imagine the excitement I, and fans like me, are feeling with a true successor finally on the way, and for consoles no less. Yes, Valkyria Chronicles 4 is happening in 2018, and I could not be more hyped. I guess a decade of disappointment will do that, right?

---
Chosen by: Terina Kett
Release: TBC 2018
Developer: Square Enix
Platforms: PlayStation 4, Xbox One
I remember first playing Kingdom Hearts on PS2 at the age of twelve and being totally enamoured by the fun characters and somewhat convoluted story. Fortunately for me, at that point in time, Kingdom Hearts II was already out, so it wasn't too hard for me to get my hands on it. I didn't enjoy it quite as much as the previous one, but it still got me excited for the next instalment, which would, of course, be Kingdom Hearts III, right?
Given the number of consoles the series has spanned, it seems lots fans didn't really acknowledge many of the spin-off titles and remakes that followed. For instance, I only played Birth by Sleep and Dream Drop Distance because I happened to already have both a PSP and a 3DS. But after years of releases whose only purpose seemed to be selling consoles and complicating the plot, eventually E3 2013 arrived with the promise of a light at the end of the tunnel. Although, at the time no one realised that tunnel would stretch all the way to 2018.
Thanks to this rocky development and announcement history, I initially hesitated to call Kingdom Hearts III my most anticipated game of 2018, but it should finally be here on or before 31 December. Kingdom Hearts III makes it to the top of my own most anticipated list for this year simply for the sheer amount of time I, like many others, have spent anticipating it. Has Riku really stopped leaving us for his angst? Will Kairi finally be a playable character? Will we ever see Aqua, Ventus and Terra together again? I guess only time will tell. I'd say I can't wait, but obviously, I can.